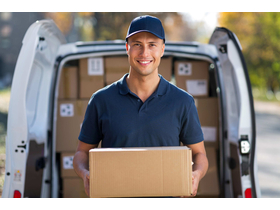 How to defeat your competitors in the field of deliveries?
It is for sure that no one would lose a competition at the last minute. Just imagine a marathon running race, where you lose one of your shoes at the last second, so the competitor behind you will win the competition. What could have been done differently?
Talking about businesses, the imaginary finish line should be taken too. Sometimes luck is needed, but if you do not want to lose your customers in the long run, developing a proper strategy is essential and that is a lot of work. It is especially true for the efficient delivery strategy development. It is possible that a simple method worked in the past, or it is still working, but thanks to an efficient plan, your business can stay competitive and your costs will be reduced.
When developing an efficient delivery strategy, you must pay attention to 5 main questions:
1.What kind of products are you selling?
There are some simple but essential questions: What is your product? What is the size? What is the weight? Answering these questions, you can decide your delivery strategy. Delivering shoes or a big table is not the same. After thinking about these, you need to check the needs of the customers based on the webshop usage data. How much is the value of the cart? How many products are purchased together? Is the customer buying in mass? Which payment method is preferred? Is it a returning customer? A good idea is to have a chatbot, where you can gather information from the customers about delivery and packing needs.
2. How do you deliver?
In this question, there are several methods that you can use:
Fixed delivery rates: a lot of companies think that this is the best option. Fixed delivery rates are more simple for the customers. One disadvantage of this is that for the smaller purchases, it will cover all the costs, although with the bigger ones, not so much.
Delivery rates based on weight/distance: this method may be a better choice than the previous one because it is dynamic and thus allows several aspects of transportation to be considered, such as weight, distance, and other options.
Real-time calculated delivery fees: with this system, the delivery company constantly calculates new prices taking into account all kinds of data based on the current conditions. The downside is that prices vary, but it also offers the cheapest option, especially when it comes to nearby customers.
Alternative delivery options: if it is an option, you can use alternative delivery options. Free scheduling software can help you keep track. With free in-store pick-up, you can gain more popularity as customers appear in person in your store, building relationships (Generation Z members, for example, prefer personal pick-up when shopping online).
3. When can the customer get the delivery?
48% of the customers get their purchase in 2-3 days, only 4% is willing to wait more than 7 days. Delivery speed is elemental in the strategy. 2 days or overnight delivery is obviously the most popular one, but at the same time, a lot of companies give an exact delivery date. This requires very developed logistics, but definitely worth it. For example, the competition offers a 3-5 working day delivery time which can be annoying for the customer, as they have to pay attention and count the actual delivery date, which can be tricky in a holiday season, or in different time zones. It is much better to offer more than one possible delivery date option to the customer to make the purchase process easier and build a loyal customer base.
4. Can you afford free delivery?
Anything that is for free, is appealing for the customer, even if it is a t-shirt or a company calendar. You cannot be wrong about this. Even if customers love a free delivery, you need to check, if this is doable in your business. Delivery is not free, as you must pay for it. Small businesses cannot always afford to have free delivery, but there are some methods that you can use. One is to add the fee to the product fee. The other is to add a purchase limit and above that, you can offer free shipping. You can also offer normal shipping for free, but then have a higher fee for the quicker one. It is also possible that you cannot afford it, it is okay to let it go! The popularity of your products does not necessarily depend on this matter, especially if you have a B2B business. The best way is to test, which option works the best for you!
5. Are you shipping to foreign countries?
It might be a difficult decision to make, if you do decide to add this to your strategy, you must check have can you develop it. First of all, a thorough analysis of the foreign markets is essential, you need to check if there is a demand for your products. If the answer is yes, there is, there are other points to consider: are your products suitable for international shipping? (Don't forget fragility and perishability!) At last but not least, you need to check if the countries have import restrictions and calculate if it is still worth it for your business and your customer with the added taxes and duties. Fortunately, there are several national and international delivery companies, for example, GLS, FedEx, and DHL. They can offer competitive options and make the process from the distribution center to the customer much easier. They can reduce your costs, allowing you to spend more money on improving other parts of your business.
When you have reached the finish line
At this point, you have checked all the points, you are ready to develop your strategy. Later, when the business grows, you might have to reconsider some points of your strategy and change them. All these efforts will definitely improve your position on the market.