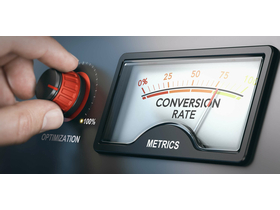 What is the conversion and what is the conversion rate?
What is the conversion rate?
Conversion rate shows the ratio of conversions to total traffic or reach. This is always expressed as a percentage. For example, a product page was visited by 1,200 people in a given month, and eventually, 90 visitors bought that product. The purchase conversion rate in this case is 7.5%.
What is a good conversion rate?
Conversion rates vary by platform and channel, so compared to competitors, a good rate is not the same for a Facebook ad, Google organic results, or browsing within a webshop. Globally, conversion rates for online ads range from 2% to 5%, based on industry averages. In the e-commerce sector, the global conversion rate is around 2.3% (growcode.com).
Just because we know the average and see our own data, it doesn't necessarily mean that our own conversion rate is good or bad. We need to narrow down the market better and look at the averages of the relevant segment and then develop our own performance indicators (KPIs) accordingly.
In addition, aspects that may affect your conversion rate, should not be overlooked:
the type of the product,
the price of the product,
the sum of an average order,
traffic source and device usage (from which channel and by what device the users came from)
the simplicity or complexity of the order process
payment methods in the webshop
target audience,
location.
These factors should be looked at too because, for example, the conversion rate on desktops is typically higher compared to mobile devices (Q2 2019, global e-commerce: 3.90% vs. 1.82%, source: invespcro.com). On the other hand, a fashion webshop that targets younger people has a different rate from the older generation, so one should not compare apples with pears.
Competitive market averages can only provide a benchmark or target value — in the end, it is always our own business results and goals that will determine whether the conversion rate is good or not.
Conversion types and conversion rates
Some examples of global e-commerce conversion rates for different industries (growcode.com/IRP Commerce):
Food and beverages: 2,37%
Babies and kids: 0,99%
Sport and leisure: 1,75%
Healthy: 3,62%
Household items: 2,48%
Electronic devices: 2,23%
Although in the e-commerce market, the conversion rate is typically tied to the purchase, the "Add to Cart" conversion rate can also be a useful statistic, hovering around 12% globally.
Let's have a look at some examples of conversion goals and their average conversion rates globally to provide a benchmark for conversions. (invespcro.com):
Lead generating websites: 10-15%
Freemium product recommendation sites: 5-30% (shows the rate of the customers that have converted after buying a free, mainly digital product)
Subscribe to a newsletter landing page: 10-25%
Registration for a webinar on a separate subpage: 10-20%
Ecommerce Conversion Rate: Try to be better than 90% of your competitors
We mentioned that depending on your industry and business profile, as well as your own goals, what counts as a good conversion rate can vary greatly. In some areas, you can build a profitable business with average conversion rates, while in e-commerce this is not enough in most cases.
A really good performance in this sector is a conversion rate of over 8-10% (13% on Amazon, for example). It's worth taking a closer look at the players in your market who can produce such success, and learn to learn the tricks and techniques from them.
Sometimes, with just a few simple settings, you can already achieve a great improvement in your conversion rate, which can significantly increase your revenue.