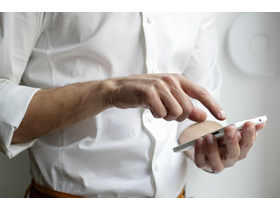 Which apps and tools can make your life easier when starting a webshop?
Invoicing, traffic measuring, price settings, and updates, monitoring the competitors and their stock, conversion optimization: these are the tasks that software can deal with easily, quickly, and efficiently, saving time and money for you.
When starting a webshop it is crucial to define how much time and resources do you spend on the processes and if the money will return. It is possible in many fields to automate processes, for example in invoicing, stock moving, or product pricing.
Using digital solutions in our private life but not in our businesses
A study in Hungary by Digimeter showed that small and medium business owners are much stronger in the digital space when using it for private life aspects than in their business lives. For example, they all almost use at least one social app (Facebook, Instagram, YouTube, TikTok, Twitter, Reddit, Pinterest, etc.), but not for business marketing purposes.
Where to begin when starting a webshop?
Step 0, before starting a webshop, is to define a good business strategy that outlines what the business is about, what is the target audience, how is the market where we work, which position do we want to tackle. Also clarify the business model: subscription, classic sales, or through agencies? Define a USP (Unique selling proposition).
Based on the above, define a budget. You need to calculate the possible income, the KPIs that you will measure, and the possible costs. Once you have that, you'll find out when your business can pay off. You also need to consider the marketing and sales costs and strategy. A business plan is needed because even if you deviate from it, you will have a benchmark so you can see where you are going. A plan is also needed to define the toolkit. Planning is very important! When defining the business plan, you need to think about which type of webshop is needed. Should it be a rented one, or should we use an already built, but customizable to an extent, like Shopify? Or it will be a uniquely developed webshop with a high cost? How many people do you need to do the work - from development to logistics and marketing tasks. If you get the answers to the operational questions, then you will be able to choose the tools that will make your life easier.
In which fields can you automate work?
The fields that can be automated are mainly invoicing, pricing, marketing, sakes, analysis, logistics and stock monitoring. In these tasks, you can get the results in a few clicks without working manually for long hours. The issue of automation is so important in digital business, especially in e-commerce, because digital work is extremely scalable, as all the data is there, accessible. You can immediately see the direction of your business, whether the number of your customers is increasing or decreasing, or what is happening in the webshop. This data needs to be collected, understood, learned to analyze, and then the right conclusion drawn from it and utilized in the business. Excellent tools for this mechanism are automated systems and applications that take over some of the manual work.
Apps that make life easier for webshops
Before deciding, about all applications and automated systems, you should consider what their advantages and disadvantages are, if you can gain the price, whether they need additional development, what packages are available, what resources are needed to operate them, and how simple they are or complicated to use, do they provide support in our native language, and so on. It is also very useful and helpful to read the reviews as well.
We usually use corporate management systems for the operation of the company, from ERP to small systems to SAP there are many types on the market, it is worth looking for them according to the business goals. Always try them out so you can find out which one is best for your business goals.
You should also choose one from the billing solutions that fit your business goals.
There are a number of solutions to support your sales activity, such as CRM systems that allow you to avoid paperwork. In marketing, you will benefit from conversion optimization software, analytics (such as free Google Analytics), and campaign analysis systems.
ConvKit is a great tool for measuring any conversion rate, including effectively getting to know your customers from social networking sites, so you can keep track of your promotions and see their conversion rate in one place. With ConvKit, you can find out which link, campaign, or social channel your customers are coming from, and if necessary, you can fine-tune your campaign. You can generate subscriptions and registrations, set up a pop-up window for visitors who want to leave the webshop, and draw attention to promotions.
There is also a solution for webshop pricing that monitors the market and provides guidance on pricing issues. PriceKit is an automatic pricing support application that constantly monitors your products and competitors. Based on the data obtained, it will make up-to-date price offers for you. Automating pricing means that prices are set automatically based on predefined rules or restrictions, using the software system, without the need for human resources and time.
You can export the prices and connect the PriceKit interface to your web store, so the prices are automatically updated there as well. If you agree with the bids provided by the software and it fits your strategy, you can accept the bids with one click and also modify them in your webshop.
You can choose the pricing strategy you want to apply. Enter your competitors, choose a pricing strategy, and enter your monitored products.
If you as a trader can automate this process, more specifically data collection, you are improving a lot because you have a lot more time left for tasks that require human thinking and work, such as making decisions. The advantage of PriceKit is, among other things, that you can use it to monitor your competitors and get information about your pricing errors.