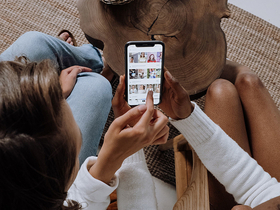 10 simple tricks on how to boost the conversion rates of our website
The conversion rate of our website really matters, so we have gathered some simple UX tricks for you on how to boost your rates.
1. Simplify the first steps
In general, people like to finish what they have started. For this reason, the last step of the signup process, that leads to conversion, should be defined as the most simple step.
For example, instead of asking the visitor to fill a complicated registration form, it is better to ask only the email address, making it easier for them to feel like they have finished the first step successfully. Even if a check-out is not happening yet, we already have an email address.
2. Get rid of the unnecessary fields
All of us had the experience of closing a process when realizing how many fields do we have to fill. Unfortunately, this is the most effective way to ruin our conversion rates. It is useful to take out all the fields that are not essential for the user to finish the process. According to some studies, every unnecessary step that is taken out could raise the rates by 10%.
Although we must pay attention to keep the essential fields, for example, the delivery address.
3. Get rid of the non-essentials
There is nothing worse than having a website with unnecessary elements that distract users, potential buyers from essential features and information!
When designing your landing page, try to make sure that it contains only the most necessary elements for navigation. To decide what is unnecessary, you can use a heatmap application to filter the areas that the visitors are not clicking on. Everything that doesn't interest our visitors is nothing more than unnecessary content.
4. Make it possible to have a third party authentication option
The registration process can be shortened if we offer authentication via an outsider account for the visitors. By enabling a Google / Facebook login, you can save a lot of time for your customers. There are several versions that make it possible to use the accounts of most large service providers at the same time.
5. Have unique product offers
When writing the Unique Selling Proposition and the Call-To-Action try to be as unique as possible. For example, starting the phrase with 'yes' is much more effective than starting it with 'Buy this now'. 'Yes, I would like to use my discount code, is a much better CTA than the one mentioned before. Feel free to experiment with multiple versions and keep an eye on your heatmap and analytics to see which one is the most successful version and use it!
6. A/B test your Call-To-Actions
Not only for the CTAs, but for all text contents it is very useful to have several versions, and a good solution for this is A/B testing. Choosing the right wording is especially important for the header text, which is read by 8 out of 10 people, but only one in five will read the entire text.
When A/B testing, you can experiment with the following variables:
Length
Tone
Using statistics
Using numbers
7. Add a chat support
In many cases, visitors can be stuck for some reason before finishing the transaction. Unfortunately, these visitors won't convert, so chat support can improve conversion rates by helping in these cases.
If anyone has a question about a product or service, this feature can be amazingly useful, especially if we can automate the initial steps with a chatbot.
This not only eliminates the typical problems but also saves time until a human operator can answer the user's questions.
8. Offer refund
Both marketers and business owners are aware that customers like to avoid possible risks. Buyers will pay for something for sure if they know that they will get what they have been offered.
By providing a money-back guarantee, we can give them the ultimate boost and increase our conversion rate almost immediately. Not to mention that in the meantime we can establish a confidential relationship with them that will help us see them among our customers in the long run!
9. Add a countdown timer
It is a basic human reaction, to act much more decisively when we feel that we are running out of time. To take advantage of this, we can hurry our visitors with the help of a countdown timer.
Offers available for a limited time can, according to some research, increase the conversion rate of our landing rate by up to three hundred percent and have an almost immediate effect on order willingness, although there is no harm in staying within fair market behavior.
10. Try more than one offers at the same time
In addition to developing our landing page, let us not forget that our website, which has been perfectly polished in terms of the user experience, is worth nothing if we do not manage to come up with suitable offers that are also attractive to customers.
To achieve the right conversion rate, it is essential to have offers that meet the market's needs. Once working on the UX points to check mentioned in the article, you still can't get the conversion rates right, it is a good idea to think about your offers and experiment with them.
It is very important to pay close attention to the right choice of analytics, to be able to choose the moves that led to success!