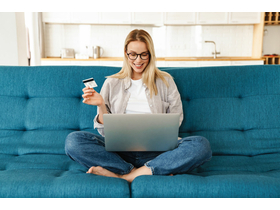 5 things that can make your visitor stay
A smart trader intervenes in time if they notice the customer's confusion and offers help. If the visitor leaves empty-handed even after this, the retailer is one step closer to the customer's next return. The good news is that even in e-commerce there are techniques that you can use to encourage those who are about to leave to stay - and buy!
1. Use strong Call-To-Action (CTA)
One of the most common reasons visitors leave early is because they can't find the information they're looking for. You can prevent this by starting to guide them the moment they arrive: CTAs are good for this.
With their help, you can turn a casual viewer into an active user and make sure that they see everything you want them to see. Pay attention to the clear, but attention-grabbing wording! Instead of "View more of our products", it could be "Show me more", or "Subscribe to our newsletter" could be more effective than "We send you the latest news, so you don't just look smart!"
If you find that many people leave your webshop without converting, it is worth making the wording of the CTAs stronger and more creative. Think of them as a map of your website, showing you point by point what and where to find.
How to write catchy texts for popups appearing on your webshop? Here are some practical ideas!
2. The secret of the non-annoying popups
Nowadays, many e-commerce sites use pop-up windows, but only a few know how to use them well. Too sudden, too much, too late - these are all mistakes that make the visitor leave. It is useful to show personalized messages and offers to the customer, according to the phase they are in.
To be specific: if they are just looking at the page, they will be faced with a popup that provides information, for example, about your service, products, and promotions. About everything that can contribute to their vote for the purchase.
When the product is already in the basket, but the customer is about to leave, then irresistible offers can come: coupons, free shipping, package offers, etc. It is most effective if all of this is valid for a limited time since one of the biggest fears of a 21st-century person is "missing out on something" (FOMO, or Fear Of Missing Out phenomenon). Why not take advantage of it?
How can you ensure that your popup is not annoying for your visitors? You can read more about the topic by clicking here!
3. Personal assistance: the chatbot
They are not only useful because they relieve/replace customer service, but also because they make the user experience more personal. Chatbots are automated applications that can answer customers' questions and vice versa: they ask what the customer wants and then recommend products in a targeted way.
With their help, you can reduce the number of abandoned orders, as the bots remind the visitor of forgotten items in the basket, and they can find out why the process was interrupted. If the customer receives an immediate solution to their problems, they are more likely to complete the purchase.
Chatbots also draw attention to special offers, so you can persuade someone who is about to leave to stay with a great offer. Moreover, if you are interested in a product, you can even increase the basket value by showing related articles.
4. Automatic filling for a quicker purchase
For the users, the most important is to get to the end of the purchase process. If the journey is not smooth enough, they will walk away easily. There is an option that can help a lot: auto-filling. Facebook log in can make the users feel uncomfortable, so the best solution is to have your own login on your webshop, that will remember the login data of the users so that they can log in quickly without any extra effort.
5. Old but gold: email reminder
Checkout is not always interrupted because the visitor has changed their mind but also because of the lack of time. You can remind them about the products left in the cart with a popup or an email reminder. User and traffic friendly are to save the products left in the cart even for the visitors who are not registered yet. Ask for their email before leaving to make sure to stay in contact. With our smart popups, you can reach your conversion goals easily!