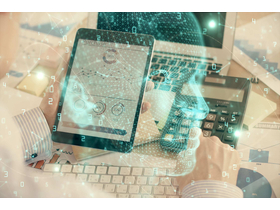 Digital transformation in e-commerce
After discussing the basics of digital transformation, this time we review the effects of the process on the operation of e-commerce companies.
Increasing e-commerce traffic changed consumer demands
As we know, the e-commerce industry has increased a lot: based on the data of Statista, online retail sales accounted for 18 percent of global retail sales in 2020, which is an increase of more than 30 percent over 2019. (naturally, the covid situation had a great role in this, although, according to the experts, this trend will continue, even after the pandemic) Along with the explosive growth in traffic, consumer needs have changed: for example, shoppers expect retailers to always provide them with up-to-date information so that they can make purchases with mobile devices, and there is a growing demand for omnichannel sales.
As a result, there is an intensified competitive situation, that poses new logistical, IT, and corporate governance challenges for online commerce companies. If e-merchants want to retain their customers, they need to find up-to-date solutions in all areas of their operations and apply the latest technological advances, they must have a successful digital transformation. So let's take a look at some of the elements of the digital transformation that can bring significant commercial advantage to online commercial businesses!
1. Headless E-commerce
Headless e-commerce is a commercial model that separates the front-end display interfaces and back-end server systems of online platforms provide a high degree of flexibility for e-commerce companies. Thanks to this method, these customer interfaces (for example, platforms in different languages of the companies) could be developed and changed individually, while the data is provided by a unified server system using different application programming interfaces (APIs). The headless commercial model is also an optimal choice in terms of search engine optimization and allows users to conduct their online transactions using different devices (pc, smartphone, tablet) in succession.
2. Big data
Thanks to data collection and analysis based on artificial intelligence and machine learning, e-commerce companies can send targeted ads and offer personalized offers to their customers, which can not only increase their traffic but also provide an outstanding shopping experience. While this type of data collection raises some privacy issues, the largest market players are constantly working to address these issues: the best-known privacy initiative is the privacy sandbox launched in Google 2020.
3. Conversion Rate Optimization
Conversion optimization plays at least as much a role in the success of e-commerce businesses as search engine optimization: while search engine optimization techniques direct users to the websites they want, a well-chosen CRO strategy helps turn visitors into customers. During conversion optimization, developers are constantly making major changes to the user interfaces of e-commerce platforms to encourage visitors to purchase; this method can rightly be called one of the great examples of digital transformation, as it can only be successfully implemented with a kind of experimental attitude that is constantly looking for new solutions.
4. Alternatíve payment methods
As a variety of alternative payment solutions to credit cards are becoming more common when conducting online transactions, all e-commerce companies should consider using them. BNPL (Buy Now, Pay Later!) services, ie interest- and handling fee-free merchandise loans, are particularly popular with customers abroad, and, if they have the opportunity, more and more people are paying with cryptocurrencies based on blockchain technology.
5. Augmented Reality
The use of augmented reality, or AR technology, is also a special shopping experience for users, as it allows customers to form a proper picture of the goods that interest them. The technology is prevalent among e-commerce companies offering home furnishings, but many clothing companies have also developed a smartphone app that allows shoppers to virtually try out individual garments in augmented reality.