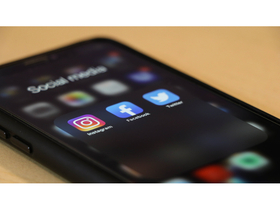 How can we raise conversion rates with social media?
Social selling is getting more and more popular and become a buzzword worldwide. It is not a surprise because for example in China, a livestream industry has been built on the huge forces of social media in marketing. Only looking at the fact that on Instagram every third of content seen by the user contains some form of paid advertising it is clear that by using social media well, we can significantly increase the effectiveness of our ads and sales.
How and why should we use social media so that we can increase our page traffic? We have gathered some useful recommendations if you are thinking about using social channels.
1. Mobile-friendly landing page
Although it might seem obvious in the times of mobile e-commerce, it cannot be highlighted enough how important a mobile-friendly landing page is.
This especially applies to social media, because most of the users are browsing these channels on their phones, so they will meet our shared content on a mobile screen. These pages are already visited by four-fifths from a mobile device, and if you think about how easily you can get from one point to another with one or two clicks, you can see easily what kind of user experience should be on your social landing page.
Scrollable large images, easy eye-catching CTA buttons, and a smooth visual look should all fundamentally fit into the social media experience of our potential customers.
If you have doubts about how effective your ideas are, do not be afraid to get help from Google, they have developed an app that checks how mobile-friendly your page is.
2. Use videos to promote your products
A good product promotion video and social sell are going hand in hand, a well-built video is a half success on social channels. A spectacular video could generate a high increase in page traffic in itself, not to mention that apart from getting new customers, we have the opportunity to present our product. These videos do not necessarily need to be professional ones, the point is to catch the attention of the visitor so at the end of the day get them as new customers. The goal is that they stop scrolling through their feed and stay with us.
Anyways, these videos should be an important part of your social media strategy, and it can be a promotion that is only a few seconds or a funny post that includes our product shared by one of our customers. The point is: to get the attention!
3. Use a good Call-To-Action button!
The difficult part starts when you have your followers and you could catch the attention of your potential customers on the social channels. It is also an old and obvious fact for the marketing experts and also for us, everyday people, that we need to tailor: to have a good call to action. This is the message that we use to increase our conversion rate.
To ask your visitors to check out our latest promotion seems like an okay CTA. On the contrary, to ask them to 'BUY SOMETHING FROM US' not so much.
Although there are some arguments about direct promotions, for example, in the latest studies it is highlighted that Instagram lists back the 'link in the bio' kind of classic traffic channeling promotions, the point is to fine-tune and test these calls and always try to find the one that works for us.
We can try posts that are less on the sales thinking like 'tag a friend' posts or questions. The goal is to make these posts active and to get them to more and more people.
4. Be consistent in terms of brand building
It might seem like a minor issue but we must always use consistent visuals to our already built brand. None of the visitors should have doubts for any seconds about what they are seeing and where they are. Apart from the creative content and visuals, you should also be consistent with the texts. Although this might slow down the working process, it is definitely worth it to have short, clear, and understandable texts.
5. Rely on the posts of satisfied users
Content created by your customers is a golden ticket on social media channels. It could be a video or a shared photo or even a written review. 79% of the visitors trust a named review almost as much as a friend's recommendation. Because of this, a new review on Google Maps could gather more customers. Do not be afraid to share the popular posts on your social channels that are created by your customers. Of course, it is easier for brands that have a dedicated fan base, but even if we are just trying to get there, it might still be worthwhile to share interesting or informative articles related to the industry, our region, or just to our product. It is useful to invest time in sharing the content made by the customers to get new ones. If needed, you should encourage your customers to share their pleasant experiences with your products or services.
6. Use good analytics to measure social media conversion
At last but not least, let's measure! Data coming from social media cannot be measured without a proper tool. There are a number of free and paid analytics tools developed for social media that are specifically designed to take the ROI more seriously in this area. A properly configured Google Analytics account can also be a good guide for beginners to measure social media channels.
ConvKit can be a great tool to measure any conversion rates, which includes the data coming from the social channels to get to know your customers better. Thanks to this solution you can track your promotions and their conversion rates in one place. It is possible to check from which social channels the visitors are coming so that you can fine-tune your campaigns.