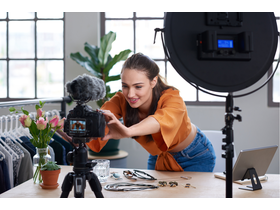 How can you increase your conversion rate with video marketing?
When done correctly, video marketing, video content marketing, can be one of the most practical tools in the arsenal of e-commerce methods and can effectively help increase conversion rates and therefore revenue.
The aim of video marketing is to give your customer an engaging picture of what you have to offer when they watch the video. It is primarily about connecting with potential customers and letting them know that you understand their needs and know the solution to their problems.
ATTRACT MORE CUSTOMERS
Videos grab people's attention quickly, and if you do it right, it's one of the best ways to showcase your products and services - without boring your potential customers.
Research shows that 78% of consumers say videos have helped them make a buying decision, and they also find product videos extremely useful. People are more likely to watch a video than read a long product description, so it makes sense to use videos to promote your e-commerce business.
TRUST AND CREDIBILITY
Being a new participant in e-commerce it can be difficult at first to gain people's trust in your brand or service. There are many scammers online and customers are often skeptical about new entrants.
Videos can help you build trust and credibility with potential customers by showing them who you are and what you offer. You can use customer feedback, behind-the-scenes footage, or product demos to reassure viewers that your business is trustworthy.
INCREASE TRAFFIC TO YOUR WEBSITE
Video is one of the most effective ways to generate traffic to your website. According to some research, more than three-quarters of consumers say that watching a brand video convinced them to buy a product or service. Not to mention that people are more likely to share video content!
USEFUL TIPS FOR VIDEO MARKETING
Let's look at some examples of how you can boost conversions by using video marketing!
Product videos
Show your customers exactly what your product is, and what your offer is all about! For example, you can present products in action, in use, so potential customers get a clearer picture of what they are buying.
Product demonstration videos are particularly useful if you are selling more complex products that are difficult to understand from photos alone.
Make sure your product videos are high quality, and informative and include a call to action so viewers know where to find the item.
Use customer feedback!
If you have satisfied customers, don't hesitate to ask them for recommendations. This feedback can make for the most powerful videos, as it builds credibility and trust, thereby building trust in your brand.
If you want to mention a customer by name or photo in a video, make sure you ask for their permission.
Promotional videos
These types of videos are among the most popular. They help you to position yourself as an expert in your field while reinforcing that much-vaunted credibility. Consumers really like educational videos because they are useful and informative. Teaching your viewers something while promoting your business is sure to increase conversions.
Use videos in your newsletters too!
Email marketing is a great way to reach potential customers, and adding videos to your newsletters can make this method even more effective. Research shows that including a video in your email can increase click-through rates by 65%.
If you want to use video in your email marketing campaigns, make sure that the videos are not too long, are related to the content of the email, and contain a specific call to action or message.
An introductory video on the landing page
A very useful method is to create a video for your landing page, in which you introduce your business and explain how you can help your potential customers and clients. This way you can give users all the important information they need before they even start browsing your site.
Make sure that your introduction video is clear, concise, and to the point. The aim is to make sure that your viewers understand what you are trying to convey, but with long, rambling, "over-talky" videos you risk distracting them or boring them.
Behind-the-scenes video
People like to know the stories behind brands and businesses. A 'behind the scenes' type video is a great way to show your visitors who you are, how you work, what you work on, what processes and interesting things are going on behind the scenes and you could go on and on.
These videos bring the brand closer to the viewer and help to gain their sympathy and maintain their interest.