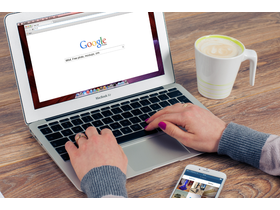 May the SEO be with you, or why search engine optimisation is important
One of the most important and popular tools in digital marketing today is SEO or search engine optimization. If you want your online shop to rank high on Google's search results and thus increase its traffic, you can't ignore SEO. In this article, we will review some of the basic elements of search engine optimization.
WHAT IS SEO?
SEO is an acronym for Search Engine Optimization. In simple terms, it refers to the process of improving a website's ranking in organic search engine results.
Search engine optimization can increase the quality and quantity of organic traffic to a website, as well as make a business more 'visible' and provide relevant search results.
While SEO, as the name suggests, is really about matching your website to the search engine algorithms, its real power lies in people. It's in understanding what they want and optimizing your products and services based on that information. In other words, you respond to what and how they search (keywords), as well as to the type of content they want to consume (text, video, audio). By paying attention to these criteria, you can gain their trust.
THE IMPORTANCE OF SEO
Every day, billions of users on search engines are looking for answers and solutions to their questions and problems. No wonder that search engine optimization has become one of the most important marketing tools.
Credibility and reliability
The better a website's search engine optimization, the higher its ranking in the Search Engine Result Page (SERP), which not only gives it more visibility but also increases user trust.
Most users nowadays are aware that a website does not get to the top of the SERPs by accident; a good ranking gives people the feeling that the site is of high quality, reliable, and has relevant content.
User experience
It is important to ensure that the website is user-friendly. The user experience (UX) is the factor that keeps visitors on your site and builds the trust mentioned above. So make the website transparent, easy to understand, and easy to use.
ON-SITE SEO
As we have already highlighted, from an SEO point of view, it is essential that your website is well structured, with adequate speed, navigation, mobile-friendly design if possible, and optimized content.
What does this include?
The on-site SEO category includes all the factors within your website that affect where Google's algorithms rank your site. Content SEO is primarily included in this section, but many people also include technical SEO (indexing, load speed, redirects, etc.). The latter is best left to a professional, but the former has many elements that you can do yourself as the owner or manager of the website.
Content SEO
Content SEO is based on the keywords and phrases for which you want to optimize your site, products, services, blog articles, etc. They should appear in the meta description, articles, headlines, captions, and image names - but it does matter how! Clarity, transparency, logical structure and structure, and proper formatting are all important, so aim for quality rather than quantity. There is no use of keyword stuffing a product description or a blog article, for example, if the text is incomprehensible, confusing and poorly structured, you'll both discourage the user and not please Google.
Also included in content search engine optimization are internal links and external links in texts. What is very important is that you only direct your users to trustworthy, authoritative sites with these relevantly placed links.
Off-site SEO
This category includes factors outside your website. Often referred to as link building, one of the main - but nowadays not the only! - off-site SEO factors are external links. These are links that point to your site from other websites. In the past, the focus was on quantity in terms of search engine optimization (i.e. getting your link to appear on as many sites as possible), but nowadays it's more about quality, credibility, relevance, and freshness.
Beyond link building
Off-site SEO is really about promoting your website in a quality way. So, indirectly, this includes your social media platforms, newsletters, digital PR activities, presence on professional forums, and more.
IN CONCLUSION
It is important to stress that search engine optimization is not the holy grail in itself. On the one hand, it does not create some kind of miracle overnight, but rather produces results over the long term. On the other hand, it has to be coherent with paid traffic, because as long as the site has no traffic, perfect SEO will not help the site perform better.
It is clear from the above that SEO is a complex process and consists of many important elements. Although there are some basic, general rules, as algorithms change, so does the knowledge of SEO, which needs to be regularly fine-tuned.
If you want to keep up with the changes, it is recommended to consult an SEO professional at regular intervals to help you maintain your advantageous position in the search engine.