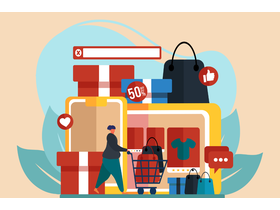 The power of personalised offers: boost conversion rats with smart pop-ups!
Users are increasingly looking for personalized and relevant content in the online space - and pop-ups can be a powerful way to deliver it. In this article, we'll show you some basic ways to use pop-ups effectively to deliver personalized offers.
CREATE CUSTOMER PROFILES
The basis for displaying personalized content and offers is the creation of customer profiles. So the first step is to gather relevant information about your users, such as purchase history, interests, and demographics. This will allow you to show users the right offers.
IDENTIFY TARGET GROUPS
By analyzing the data, you can identify target groups and then tailor the products and messages that are relevant to them.
For example, if a user has browsed the sportswear category several times, you can create a target group of sports enthusiasts and display related offers in the pop-up.
OFFERS DURING THE PURCHASE PROCESS
Use popups during the shopping process to help users make decisions and encourage them to make further purchases.
For example: when a user adds a certain product to their shopping cart, display a popup that offers them a frequently purchased item in that category. So you can use pop-ups to boost basket value by using bundle offers, cross-sell and upsell solutions - read more about this in our article 5 useful tips to increase cart value!
SPECIAL OFFERS FOR CART ABANDONERS
Abandoned cart = lost opportunity for the merchant. Unfortunately, cart abandonment rates are generally very high (so if you're struggling with it, know that you're not alone), but there are some really useful tools to improve the rate, one of which is the smart popup.
Include a personalized pop-up that reminds the user of abandoned products, and even include special offers to get the user back into the shopping process. Click here to find out why you should offer a discount to cart abandoners!
INTEREST-BASED OFFERS
These can be used to present more relevant and personalized content and offers to your website, visitors. When a user is browsing a certain category or product type, the popup can display a related offer that can help them explore further content.
TIMING IS KEY!
As we have repeatedly stressed: timing is one of the most important factors when it comes to pop-ups. It is important that the popup appears at the right time and in the right place for the user, just when they are receptive to the content and offers that are relevant to them.
What to look out for?
Don't show the popup too soon, leave some time for the user to browse and look around.
During the purchase process, stop bothering the customer with irrelevant messages. Exceptions are when you really want to show them relevant information, such as cross-sell, upsell offers, or free delivery above a certain price (see above).
For more useful tips on this topic, check out our article: Avoid these mistakes to avoid annoying popups!
TESTING AND OPTIMIZATION
A/B testing and optimization are essential to increase the effectiveness of your personalized popups. Experiment with different content, offers, discounts, design, and timing, then analyze the results. All this will allow you to continuously improve the effectiveness of your popups and better understand your users' preferences.
SUMMARY
Pop-ups can be an excellent tool for effectively communicating offers to users. However, it's important to consider customer profiles, target groups, purchase process, and timing, and to regularly check and analyze the results so that you can continuously improve the effectiveness of popups and the user experience.
Remember, ConvKit's smart popups help you create successful campaigns and innovative solutions to smoothly achieve your conversion goals. Sign up now, try it free for 30 days!