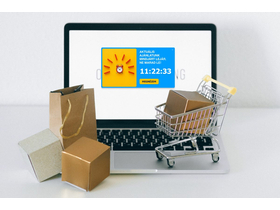 The power of time pressure: how can you use the Countdown timer popup efficiently?
Countdown timer popups are proven a great solution if your want your visitors to take action. It sets a time limit to make it easier for them to convert.
The goal of the Countdown timer popups is to ensure the visitor about finishing the purchase, hence the increased conversion rates and decreased cart abandonment. The secret of these popups is the FOMO (Fear Of Missing Out) to make the visitors feel that they are in a rush and communicate the time sensitiveness.
When should you use Countdown timer popups?
Countdown timer popups are a perfect choice if you have a discount or promotion on your webshop that has a time limit.
– one option is to show the popup with the time limit to the visitor when they want to abandon the page. You could avoid page leaving without any purchase.
– if there is only a tiny amount of time left from the discount, you can use it as a welcome popup
– another option that more and more people are using is when the user checks the items in the cart, a Countdown timer popup will shop up. The text of this popup will gather attention to the fact that the cart will only hold the items for a couple of minutes and then it will be emptied. This method should be used in smaller webshops, where the offer is not that big and the products are unique.
Avoid this mistake!
Do not set far time limits. If the user sees that the end of the discount is far, they will deduct that they still have time and can return later. Hence the risk that the visitor will change their mind in the meantime and the chance of impulse shopping will be gone.
Experience shows that a Countdown timer popup is effective if the time limit is set to less than 24 hours.
Communicating bundles
Do you have a promotion that lasts more than one day? A good solution could be to change the discount gradually day by day - to communicate this, a Countdown timer popup is perfect!
Try it with ConvKit!
In ConvKit, you can set Countdown timer popups quickly and easily. Do not let your visitors miss your best and most popular products, show them when there is a discount!