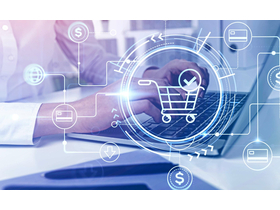 The reasons why you should use ConvKit
You can create unique content, set popup messages, stop the visitors to leave your website or abandon the cart, you can get new subscribers and increase the conversion rate of your webshop. Let's see how it works!
What is ConvKit and how can it help you to increase conversion rates?
All e-traders' goal is to get to their target audience, and to lead the visitors that are potential buyers - for example with marketing tools - towards actions that are important, interesting, and pay off for the trader. So the ideal outcome for you is the following: that people are visiting your website, and then do actions suitable for you: purchase, return, or subscribe to a newsletter, so that you can share your content with them easily. ConvKit helps you to achieve these goals, manages conversion.
1. Showing messages, discounts
ConvKit helps you to show, promote the important, up-to-date informations, that you would like to share with your visitors, newsletter subscribers, and potential buyers. For example, opening hours changes, introducing a new product or brand, stock sells, etc.
2. Mini campaign management in your ConvKit account
ConvKit is a widget (popup window) based application, where you can create simple messages but also more complicated, sales supporter popups for your target audience. Within ConvKit, you can access a campaign management system, where you can choose where and how to show the widgets, based on which targeting rules. You can also design your own widgets, choose the font, text, colors, and picture to show. You can set the actions that should trigger the showing of the widget. You can also choose, on which website pages the campaign should be displayed.
3. Unique visitor settings for your campaigns
Using ConvKit, you can target specific target groups. You can also target only the new visitors, returning ones, or regular visitors. One of the advantages is that you can measure the success of your campaigns because you will have detailed statistics about them: the number of downloads, conversion rates, and time changes.
What kind of widgets are popular in ConvKit?
For example product popularity index. You can set smart widgets, that can check the page downloads for a product page, and if it reaches the number that you have defined, it will popup for your visitor, saying '320 people have visited this product today'. The number of visits is in real-time, updating continuously - with real numbers of course.
You can also use a simple, information banner, but you can also set a cart abandonment widget so that you can make your visitors stay easily.
A simple from-to deadline banner can be set too with a picture and a short text, but a sophisticated one can be designed too in the app. You can also set a keyword-based campaign so that it will only be shown to the visitors that are coming from Facebook. You can also set the campaign to be shown to a specific visitor that returns frequently.
In ConvKit, you can also find counter widgets, that support greatly your campaign. For example, if you are adding a counter to a discount, it will show, when will the discount end. Apart from these examples, you can also show product category campaigns, and add subscriber widgets that help you get the email address of your visitors, and build a newsletter database.
4. You can easily connect ConvKit to your webshop and navigate through the application
To connect it, you do not need the help of a developer, nor to be an expert on the subject. Connection is made through Google Tag Manager, you can add a Javascript code and connect the app, but if you are stuck, there is great English-speaking customer support.
Navigation through the app and campaign creation is very easy, all the features are right there for you and there are FAQ pages to help you. ConvKit works in a month-based subscription system, you can choose from different packages, but before that, you have a 30-day trial period when you can try all of it.
5. ConvKit can be connected to a pricing decision support system, PriceKit
The reason why ConvKit offers you more than other conversion growth hacking tools is that it can be connected to a pricing decision support system, PriceKit, and connecting to its data, you can create price-based popups with real-time data. For example, one of your products is the most popular on the market, with the best possible price - you can communicate this on your widgets.
Another advantage: not only webshops can use ConvKit, but any company based webpage can also use it to talk to their customers and generate leads.