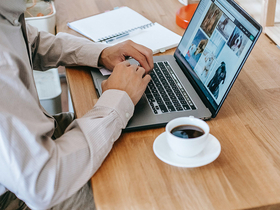 The role of UX and shopping experience in improving conversion rate
The shopping experience is an essential part of purchasing a product, if the goal is conversion rate growth it is definitely needed to have a look at this topic and how it can be improved.
One of the phases of the shopping experience is the payment process, it is very important to have it well-built, 68% of the visitors could cut their checkout and that affects our sales and could have a huge effect on the revenues.
We have collected some useful advice about the points that should be improved in your website's shopping experience.
User Experience (UX) is modeling the process that optimizes how the visitors are navigating on the store, which items appear when the pages are loaded, or how they can contact us and get further interactions with us.
But what are the optimization steps that are most effective for UX in increasing your conversion rate?
Using videos on the landing page
Most of the landing pages contain way too many texts, especially for products where they try to sell the product in great detail to hard-to-reach visitors, but the call to action that is sitting among these details are not necessarily the best way to sell or to raise conversion, it has quite the opposite result.
Showing a lot of text on a page can be destructive both for UX and buyers. It is almost obvious that the golden ticket is to place fantastic product explanation videos.
Nowadays there is a video content trend and this solution would perfectly fit in. If we can add a colorful product video that catches the eye of the visitors according to studies, we can increase the rate of completed purchases by up to 62 percent.
Well placed CAT (call to action) buttons
You do not need to be a UX wizard to see that a nicely placed call to action button is indispensable if the goal is a good conversion rate. Does not matter if we want to sell a product or a subscription, CTA should be in the most reachable spot in the most obvious way on your website.
Following the UX philosophy, CTA buttons should be placed so that the visitors can reach it in the quickest possible way without any interactions. Of course, we also need to keep in mind that our page can appear in many resolutions and devices, so we need to make sure that an interactive element that allows conversion is displayed above the fold on each display.
According to the study by NN Group's UX experts, 84% more visitors can see the content that is displayed without any scrolling, and these findings have been confirmed by Google's own research.
Page load speed
It is also not a surprise that for a good UX and, as a result, for a good conversion rate, the page load speed is essential too. How well our page load speed is optimized can seriously affect even our Google search ranking, so the time that we spend developing it is worth a considerable amount.
But what can we call a quick page load? Of course the quickest possible, but there are some golden rules about this too that we must not ignore. The study by Akamai Technologies and Forrester points out that even in 2009 visitors would not wait for the pages to load if it took more than 3 seconds. At this point more than half of the visitors would leave the website.
Page load speed for the mobile users is even more crucial, as the study by Google mentions, 53% of the users would leave if a page would take more than 3 seconds to load.
So the answer is quite specifically 3 seconds in this case, but it would not hurt to cut it to 2 seconds. Using these tools we can check for ourselves how our website pages are loaded:
GTmetrix's Website Speed and Performance Optimization
Transparency of our website - reader-friendly appearance
Many times we tend to underestimate the readability aspects of our websites, sometimes even the UX experts forget about them even if it is as important as the other aspects. One of the biggest mistakes that we can have is that once the visitors end up on our website, they see a page where they have no idea what is going on.
Should they read the reviews? Should they watch a video? Or should we welcome them with a CTA? If the content is not clear and easily found, visitors will not know what to do on the page.
Even if it is a common point of view in the UX circles or in general that the visitors do not care about the content and the text written on the page (there is some truth in this), we should not forget about the simple tricks like placing the right sized text on our page.
The study made by Carnage Melon University and the Spanish experts of Pompeu Fabra suggests that 18 sized or bigger fonts should be used on our pages. According to The Effect of Font Size and Line Spacing on Online Readability that in terms of readability and UX, at least 18 is needed to get our message to our customers efficiently.
Next to font size, the other essential part is to have a landing page that is very well designed, shows the content clearly, and gets the attention of visitors. If we put too many 'candys' on the page (too many URLs, CATs), visitors won't be able to navigate between them, will lose attention quickly.
A landing page without unnecessary URLs and CATs could raise the conversion rate by 30-40%, so it is very important to check which elements are the most useful on our page and only use these ones to reach our goals.
The magic of free delivery
It is not definitely related to UX, but to boost the purchase experience, there are some magic tricks that we can use, for example, free delivery. With a well-placed, eye-catching 'free delivery' sign, we can get a lot of new customers as many of the customers are leaving their shopping because of the delivery fee.
According to a study from 2016, 90% of the customers are considering purchasing when there is free delivery. This option, as an incentive, can make a serious contribution to increasing our conversion rate and can greatly raise the number of completed transactions. This magic trick obviously needs the other points we have discussed and won't work without an optimized payment process.
Check-out, the optimized payment method
One of the most important parts of a completed transaction -that itself in most cases is the conversion- is to optimize the last step, the check-out, meaning the payment process.
Statistics show that 21% of the visitors are stuck at this point. There can be a number of reasons for this, but at least 24 percent, or nearly a quarter, of abandoned purchases, happen because something distracts the user. However, this number can be significantly reduced by validating some UX considerations.
First and foremost, within reasonable limits, we must offer all the possible payment options to our prospective customers. This can be a traditional debit card, credit card, mobile wallet, or other payment methods, in this case, it is good to offer the widest options to our customers.
In addition to the variety of payment methods, it is also important to have as few steps as possible to complete the transaction. It is no coincidence that the one-click check-out feature developed by Amazon is hugely popular worldwide, as users can finish the process with one tap.