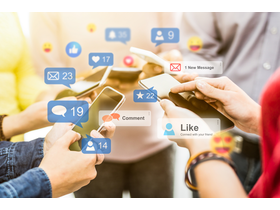 This is how you can increase your conversion rates with the help of social media
Social selling is getting more popular around the world. How should you use social media and increase your visitor number at the same time? We have put together 6 useful tips for you.
Mobile-friendly LANDING PAGE
Even though it might seem obvious at the age of mobile e-commerce, we cannot highlight enough how important is to have a mobile-friendly landing page. This is especially true when it comes to social media when most of the visitors are using portable devices when they see your content. Four-fifths of social media sites are already visited from a mobile device, and if you think about how easily you can get from one point to another on Facebook and Instagram, you can already see what kind of user experience you should be able to offer your visitors on the landing page of your social media site. The large images that can be paged and scrolled, the clear, attention-grabbing buttons, and the fluid visual appearance must all fundamentally match the social media experience of our potential customers.
If you have doubts about the effectiveness of your ideas, don't be afraid to call Google for help, which offers a special application to determine how mobile-friendly the site is.
Use videos to promote your products
A successful product video and social selling go hand in hand, a well-made promotional video is almost half the success on social media.
A spectacular video alone can bring a significant increase in traffic, not to mention the fact that, in addition to gaining new followers, it is also possible to present your product. It is not at all necessary to have professional videos made with a huge budget, the point is that they capture the imagination of your visitors and attract more followers, i.e. potential customers. The goal is to make them stop scrolling through their feed for a moment and stay with your content. Either way, videos should be an essential part of your social media strategy. Whether it's a few-second mini-advertisement on the site or a funny post shared by one of your customers, in which your product is mentioned, the point is: to draw attention to yourself!
Use a good CALL-TO-ACTION!
Once you have the followers and have managed to attract the attention of your prospective customers on social media, that is when the hard work begins. It might be self-evident but: make sure to make the right call. To have the perfect message that will convert your visitors into customers.
Asking your visitors to view your latest promotion seems like a good CTA. On the other hand, demanding "BUY SOMETHING FROM ME" is not so much.
Fine-tune and test these calls and keep trying to find the one that works best. The point is to have popular posts and to reach as many people as possible with your messages.
Be persistent when it comes to branding!
It might seem obvious, but you must use your already-built brand and its visual elements consistently. Your customers should never have a doubt about what they are seeing and who they are visiting. Apart from these elements, you must also be consistent when it comes to messages and texts. This might be a little bit time-consuming, but it definitely worth the effort. Make sure that you have short and clear messages without any specific definitions.
Trust the posts of content customers
Content made on social channels by your customers is a great resource even if it is a video or photo or text review. Did you know that almost 80% of visitors trust the feedback posted with a name as much as the feedback of a close friend? Don't be afraid to share the popular posts that are shared by your customers on your social channels. Evidently, the brands that have a great reputation and numerous loyal customers have an easier time, but even if you are still trying to reach this goal, it is useful to share informative content that is relevant to your market, region, or products.
Your goal should be to gain new followers and customers when sharing customer-generated content.
Use a good analytical tool to measure the social media conversion
Last but not least: measure! Conversion coming from your social channels should also be measured with the appropriate tool. Many tools made for social media conversion metrics are available for free but there are also some for a subscription fee if you are really interested in this topic. For beginners, Google Analytics with good settings can be a great starting point. To measure any conversion rates, which includes counting the number of visitors that are arriving at your site from the social channels, ConvKit can be a great tool. You can check your promotions and their conversion rates.