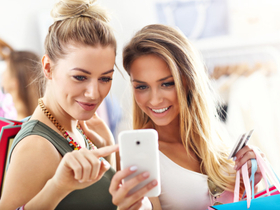 Tips for effective sales on social media
Social media is not only an entertainment source anymore, users are happy to use it as an information source and to purchase things on these platforms. This is especially beneficial for e-traders, they can acquire a new and busy sales channel with minimum investment. Moreover, it is a good opportunity for traders who do not yet have an online store to reach new customers without any risks.
Facebook marketplaces are simple and effective
Facebook Store is the largest social networking application. No external partner or software installation is required, no subscription fees or commissions are charged for using the service. All you have to do is add the Store or Shopping tab to your company's Facebook profile, which you can do very easily in the Page Setup menu.
The products can then be easily uploaded, along with high-resolution images, videos, descriptions, and prices. The best part is that in each posted image you can mark your products, and by clicking on it, the user can buy it immediately.
It is also possible to set pricing directly on this interface and it does not have to be related to the webstore. In addition, in the Offers, we have the option to set up special promotions valid only on Facebook, which can be set to expire, coupon codes can be added and many other options are available.
Facebook Store integrates very easily with many sales software, but can also be run on its own. In the second case, the PayPal payment service is the most obvious and secure solution for making payments, but we also have other options. Of course, we can also set that our Facebook store only works as a shop window, and the customer completes the purchase process by directing it to the payment page of the web store.
On Instagram, beauty has the main role
Instagram Shopping is perhaps an even simpler and more intuitive system than the previous one. Its operation is naturally similar, as the two ecosystems are in the hands of one owner, and developments are being coordinated by the Zuckerberg galaxy. In order to use the service, we need to create a business profile on Instagram, then we can start selling. There are two ways to do this, on the one hand, you can place the Buy button on the profile page, and on the other hand, you can mark the products in the posts.
Instagram offers a more complex service than Facebook, and it is also possible to manage orders within the app. Because the whole system is built on visuality, beautiful products — products related to the beauty industry, fashion, and design — can be sold on it more efficiently than those that don't look like the primary customer expectation.
Hence the fact that brands mainly use influencer-based marketing tactics on Instagram when they seek to gain awareness and sell a product directly through popular people. It is a common misconception that these strategies can only be applied to influencers with tens of thousands of followers, but modern marketing already considers it more valuable to use smaller but niche-focused audiences because they achieve significantly better conversion rates.
Be flexible when on social media
Whichever method we choose, certain pricing tactics should not be forgotten. On the one hand, you need to be aware of market conditions, the sales channels of your competitors, and you should constantly monitor your competitors' pricing as well. An advanced adaptive pricing tool such as the Hungarian-developed PriceKit, which is able to monitor competitors' prices and stocks, based on these, can make proposals to reduce - or increase - prices, depending on the current market situation. On the other hand, it should be noted that different pricing may apply across different channels, depending primarily on the nature of the products and the demand for them.
Of course, good pricing alone is not enough for successful sales, it is very important that our marketing activities are flexible, our order fulfillment and return policies are up-to-date and in line with market expectations. You should constantly measure performance, not be afraid to change and test, or even make mistakes - social media is an extremely volatile channel, a rigid attitude does not bring success.
One business, several platforms, and experiences
It's worth treating all sales channels as a single business, but keep in mind that different platforms represent different customer paths, with different user experiences.
So let's get creative and produce the right content for the platform, and try to attract customers with offers that meet the needs of each of them. People want to buy an experience today, let's give them the opportunity to do it, and they'll give us their money.