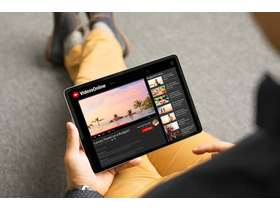 Ways to Optimize Your Business YouTube Channel
According to statistics published in early 2021, YouTube has 2.3 billion active users. The world's most popular video sharing app is the second most popular social networking site following Facebook, and it is the second most favored search site. Thousands of influencers, businesses and retailers use the site to promote their brands and services. But how do we get viewers to choose our videos from several hundred thousands of hours of content uploaded daily?
YouTube video views are heavily influenced by the platform's recommendations, including which video the site offers next. A well-chosen search engine optimization strategy can help you increase your viewership.
The algorithms constituting the basis of the engine primarily analyze the time spent on watching each video and the so-called audience retention, i.e., how many visitors your channel had in a given period, how many people started a particular video, and how much of it was viewed. However, a number of metadata that are not visible to viewers are also considered.
So let's see some useful ideas that can help you develop your company's search engine optimization strategy!
1 Start your videos with keywords
In order to properly manage our videos, YouTube must "understand" what they are about. You can also transcribe the text of the videos in your language manually or with the help of external applications. Thanks to the caption, the search engine will get to know the text of our videos, and if one of our keywords is featured in the first few seconds, it will rank this content in a better position among the videos it offers.
2 Choose Google and YouTube friendly titles
YouTube content often appears in Google search results too, and whether or not this happens depends a lot on the title we give to our videos.
Here are some examples of how your videos are more likely to appear in Google search results:
- How (to)
- Guide to…
- What is the…
Video titles starting with "How to" are especially popular: according to the statistics mentioned earlier, the number of such searches on the site is growing by about 70% per year.
It also helps a lot to include one of your keywords in the title of your videos. If possible, this keyword should be mentioned somewhere at the beginning of the material, but of course always make sure that the text of your videos does not appear unnatural.
3 Optimize the description of your videos
Video descriptions are also important metadata for YouTube's search engine when defining content - of course, the clearer a description is, the better. You can also use links in your descriptions directing to your company's website or social sites, since these function as so-called CTAs (call to action), meaning they encourage viewers to interact.
4 Use cards
The so-called cards, links to other videos that appear in the upper right corner of videos, are also useful. YouTube's goal is to keep visitors on the site, so encouraging your viewers to spend more time on the site can add value to your videos for the algorithm.
5 Use the caption option
Due to the fact YouTube's search engine can't interpret video or audio content, captioning is useful for search engine optimization. You can also manually add captions to your videos, or upload text files with or without a timecode.
6 Choose your thumbnails well
CTR is a metric that indicates the percentage of users who actually click on your content appearing in YouTube search. The platform carefully monitors this data and ranks videos with higher CTRs in a better position. This is why it's worth aiming to make your video thumbnails stand out from the crowd so that users can click through and view your material.
- Use unique colors
- Faces make thumbnails more personal, so use them boldly
- Briefly summarize the topic of the video in the text of the thumbnail
- Avoid clickbait texts
- Use the lock screen option
At the end of your videos you have 5-20 seconds to offer additional click opportunities to your viewers, thereby encouraging them to interact. YouTube has five options: Video, Playlist, Subscribe, Channel, and Approved Sites. On the final screen, ask your viewers to subscribe to your channel.
7 Write a good description of your channel
An understandable and purposeful description of your channel serves as a guide for viewers and provides valuable metadata for the search engine. Summarize briefly what you deal with and what your goal is; use the most relevant keywords and describe who was involved in creating the content - this information encourages viewers to sign up.

8. Create playlists
Viewers using your lists will spend more time on Youtube, and the search engine will rank your channel in a better place as a result. Well-structured, clear playlists also let your new viewers know what content they can expect and what services or products you offer them.