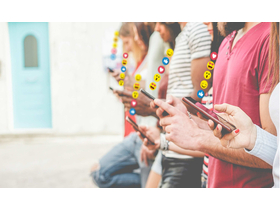 What does generation Z like in a webshop?
What are the main characteristics of teenage shop visitors? What do they expect from a webhsop? What are the essential and sympathetic features? What makes shopping easier? Why do they choose a webshop more than once? This was answered by some members of Generation Z.
Generation Z: they have bornt into a digitalized world. Using social media, browsing websites, digital tools, and solutions are an everyday component of their lives. As a user of these tools, they are faster and more efficient than the previous generations.
According to some studies, since this generation experienced or at least perceived the global economic crisis as a child, they look at value for money, additional offers, additional services, and free home delivery when shopping. Sometimes they also manage the purchases of their parents and grandparents, drawing their attention to new, better or cheaper products.
Thanks to the big amount of free, available data, they are more conscious about online purchases, they are more aware of the prices, promotions, new product launches, and the feedback that webstores or products have received. Often impulse buyers.
The main aspects of online shopping for this generation are that it is quicker and less time-consuming, more details can be found online and the product range is more transparent than in the physical stores. It is also important that they can get the same products on the webshop as in the store. One of our interviewees gave an example from last autumn, when only one size of the lingerie of her choice was available in the webshop of one of the clothing brands present in Hungary, so she could only buy it in a physical store.
It is very positive for them when also a brand gives feedback about the products on social media, not only the buyers. This generation loves to use hashtags provided by the brand. They also like it when the company communicates with them on different social platforms.
As stated in the interview, a webshop is expected to have as much product information as possible on the drop-down tab on the page, in a separate menu, or by clicking on a separate button (not to complicate navigating the page). You definitely need beautiful, high-quality photos of the products that capture them, and next to them the information is up to the smallest detail: the fabric, the size, the cleaning, the technical specifications for the technical items. They love tutorial videos, assembly guides, makeup or styling tips, and more.
Make the webshop clean, transparent, logical, user-friendly, easy to find information about the purchase, ordering and payment process, delivery or receipt. The process should be completed in just a few clicks.
It helps a lot to make a decision if a size guide is added to the product pages. To show recommendations based on their previous purchases, page visits make their buying experience more comfortable, especially if an algorithm can guess their perfect size based on the same data.
It is a must to offer more than one payment process: debit/credit card, online cards (like Revolut), and Paypal.
As for the delivery, they prefer to have the option to pick up the package at designated points (pick-up points), so that they do not necessarily have to be waiting at home or at their workplace. Some of them even prefer to pick up the package from the physical store.
Having a chatbot on the website is completely natural for generation Z, some people are not bothered at all by the fact that they are communicating with a machine. Other people prefer chats that offer to connect with a real-life customer support operator, otherwise, for them, it only seems like an illusion of interaction.
It is essential to have great customer support, so if they have any issues with the order, they can discuss it. 'If I don't like the ordered item, and I would like to return it, they should handle it flexibly. Showing the contact for support at the very end of a page, where is very difficult to find, and it is very hard to reach them is very frustrating. Even a written complaint should be available in one click, and should be able to be sent without registration, login, or downloading any apps.'-said a 20-year-old customer.
It is very appealing for them to offer discounts, for example after every fifth, tenth purchase, or a specific sum. This will make them feel important for the webshop. They also pay attention to the fact if the discounts are real or not, as being a conscious buyer, with a few clicks, they can cross-check the product prices online.
Environmental consciousness is very important for them too. It is good to have economic packaging, that is recycled. It is positive if the brand pays attention to its ecological footprint and strives to deliver orders with as few pollutants as possible. This should be shown on the webshop. In regard to cosmetics, there is a growing need to create them in an animal-free way, and more and more people are looking for vegan, chemical-free, harmful additive-free cosmetics and beauty products.