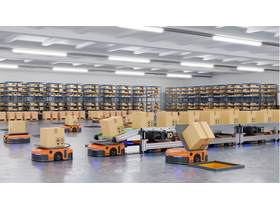 What we can learn from Amazon's success
Amazon has gone from an online book store to a wide-ranging business. Today, it has become an indispensable player in the e-commerce and IT sector. There are several things we can learn from Amazon's success story.
Today, Amazon is present in so many areas that anyone who doesn't look closely at it wouldn't even be able to list at first what the company giant, founded in 1994, is all about. It is an online merchant, a streaming service provider, an e-commerce platform, a cloud service provider at the same time, but there is also a company under its umbrella that deals with the development of robot technology, and Amazon has even moved towards the healthcare and pharmaceutical industries. It's like a giant octopus with lots of tentacles.
As an e-merchant, we can learn more from the history of the company's start-up, development, and expansion
The beginnings of Amazon
It practically started out as a garage company: founder Jeff Bezos left his job and set up an online bookstore. The company is named after the world's highest-flowing river (the Amazon), referring to the return available through online commerce. But the name also has another meaning, as the arrow in the logo points from "A" to "Z", symbolizing that everything is available from them. In any case, the founder wanted to use a name starting with A to put the company at the top of the list.
Amazon is not stuck with books, the range was expanded in 1998 with audiovisual products, CDs, DVDs, software, and more. Meanwhile, they continued to grow, listing in 1997, and in 1999, Time magazine named Bezos Man of the Year.
Amazon's expansion and development
Even the bursting of the dotcom balloons in 2000 didn't ruin Amazon (despite feeling crisis in-depth), they launched the Marketplace that year, which initially operated as a kind of online antique store and then a third-party sales outlet. Different companies could sell their products in almost any category.
Notable highlights include the release of Kindle, their self-developed e-book reader, in 2007, for which, of course, they also offered e-books. In 2009, they acquired an online shoe store called Zappos, and in 2010, an e-commerce company called Quidsi, thus expanding their scope of operations. Kiva Systems was acquired in 2012, from which Amazon Robotics has grown to be responsible for Amazon's manufacturing and logistics innovations. They help solve shipping and warehousing tasks without human labor, and they implement all the technology that uses artificial intelligence to automate certain processes in Amazon's headquarters and warehouses.
At the same time, the company has expanded into the IT field and is now one of the world's largest cloud-based hosting providers. In 2015, they acquired a company called Elemental Technologies, which brought video services under AWS.
His new areas of interest are home delivery of fresh produce, as well as the healthcare and pharmaceutical industries.
The secret to Amazon's success
The key lesson is that the founder did not stick rigidly to his original ideas and did not remain an online bookstore from the beginning until 2021.
Monitoring the market, the economic environment, and customer needs have allowed Amazon to always see where it's worth appearing, where to expand, what to push or new services that are worth launching, or investing in, how to reach a new customer base, to serve customers efficiently, so that the business model is sustainable in the long run and the operation becomes cost-effective.
Additional lessons include continuous learning, adaptation, trend monitoring, development, automation of as many processes as possible, enhancing the user and customer experience, and continuous transformation.
For webshops, too, this type of strategy, based on real data and new information and incorporating state-of-the-art technologies such as automation, adapted to the economic environment and customer needs, can be the basis for safe operation.