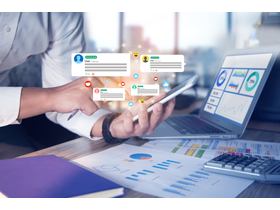 Why user-generated content is useful for marketing?
Marketing is constantly evolving. While customers and shoppers used to be passive participants, they are now active contributors to marketing as more brands rely on mobile and digital channels. This is largely thanks to social media, which has made it easier for customers to communicate with companies and each other in real-time.
User-generated content (UGC) or user-created content (UCC) is all content that is created and made public online by consumers. It can be a picture, video, tweet, post, opinion, or anything created by a user rather than a brand or company.
What this can mean for an e-tailer is that marketing content is often created for them by their customers, even without them realizing it. An estimated 34 million videos are posted on TikTok every day and Instagram has more than 2 billion monthly active users and more than 500 million daily active users interacting with various media on the app.
All this consumer-generated content can have a positive impact on your brand's image.
WHY SHOULD YOU ENGAGE WITH UGC?
Social media is so prevalent these days that it's almost impossible to avoid it. As a result, UGC is playing an increasingly important role in marketing - and for good reason! UGC helps potential customers see your products and services in action.
USERS TRUST EACH OTHER'S CONTENT MORE
In the noise of advertising, users are more likely to trust each other's opinions than information coming directly from companies and brands. It is estimated that 84% of people trust online reviews as much as a personal recommendation. This is the concept of 'social proof', which can make or break the credibility of your business. When customers see what positive experiences others have had with you, they draw conclusions about the quality of your products and services, which of course extends to other areas of your brand. This not only makes your company more credible and popular but ultimately influences whether or not people buy from you.
USER-GENERATED CONTENT HELPS TO BUILD BRAND LOYALTY
Since most of these online conversations are public, customers are free to share their positive and negative experiences with a huge audience. This is a powerful tool in their hands!
Engaged customers can therefore become the greatest advocates for your business.
Social media is a great platform for you to get involved in these conversations. By sharing comments, videos, retweets and other consumer content, you have the opportunity to showcase the stories your customers are telling and how they relate to your business.
When you join these types of conversations, you can make your brand more personal and human. In effect, you can create an emotional connection with your users that reinforces to them that your business is not just a place to shop, but a platform that resonates with them on a deeper level and understands their needs.
A COST-EFFECTIVE SOLUTION
User-generated content is an extremely valuable and reliable marketing tool. Once users engage with your brand, they will generate frequent and relevant content, giving you a marketing strategy that is even more sustainable than traditional paid advertising.
HOW CAN YOU GET USERS TO PRODUCE CONTENT? WITH GIFTS!
Although your customers and clients may often create content about your products, it is not necessarily and always about your services. To experience the full benefits of UCG, you need to know how to motivate users to generate content with your business in mind.
That's where the rewards come in! Although it may seem very obvious, rewards are still one of the best - or perhaps THE best - motivators for many valuable customer actions. With that in mind, a smartly structured rewards program is the most practical way to kick-start the UGC engine.
THE UGC AS A VALUE
The content your customers create is valuable for many reasons: it's social, it's visual, and most importantly, it allows them to connect with the values and messages you want to convey that make your business truly unique. These are the qualities that make UGC one of the best and easiest ways to build a brand community.
In today's digital world, where screens separate us from each other, building community is paramount. People have a deep desire to be a part of something, and by interacting with your users and customers in this way, you not only benefit your business, but you also create a valuable space - one that offers more than just a great product. These emotional connections are what can really differentiate you from other brands.