The last step of campaign creation is editing the widget. In this step, you can design the widgets, set where on the screen it should be shown, and the popup behaviour. There are loads of widget types available.
Choose your widget type
You can choose your widget from the ConvKit templates (these are also editable once chosen) or you can choose from the widgets that you have created for your previous campaigns.

Once you have chosen your widget, you can start to edit it. Click on 'Edit' and start to customize it.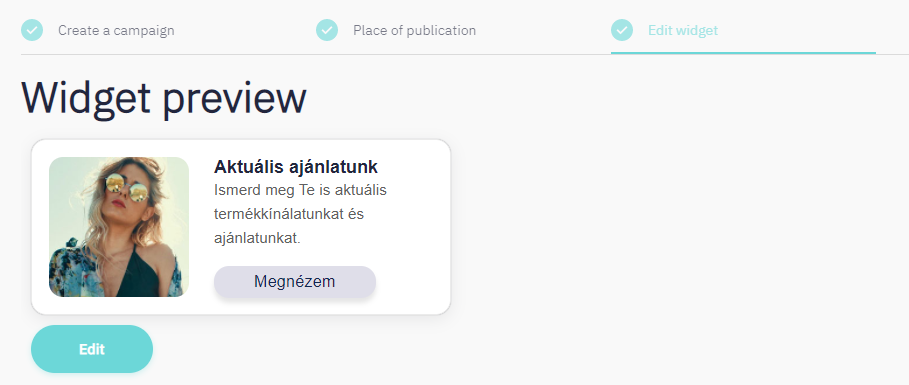 ConvKit offers many widgets tailored to different targets, check out all of them, they will definitely help to raise your conversion rates!
Widget positioning on the screen
At this step, you need to choose where to show the widget on the visitors' screen. You can choose different options for pc and mobile.
Widget showing settings
At this step, you can choose the showing behaviour of the widget.

You can choose from different settings:​​​​​​​
Display delay in seconds (the seconds that should pass until the widget pops up)
Auto-close delay (the seconds after the widget should close automatically)
Display effect (setting the movement in which the widget should show)
Display trigger (setting to which action should the widget show up, for example, scrolling)
Frequency of showing the widget (setting how many times the widget should be shown to a visitor)
If you have any questions please contact us at staff@convkit.com